Thrill
as I update in a frequent and timely manner! Ha ha ha ha, the hell is wrong with me. Oh, dear.
Regardless, good afternoon, friends and countrymen! I'm safely through the first term of graduate school, and have currently squirreled myself away on vacation -- and I use 'vacation' very precariously loosely -- back home in Winnipeg. I arrived home just in time for the weather to hit minus fifty with windchill, although A) what the hell else is new here and B) this meant I had the luxury of mostly avoiding the whole '
snowmageddon
' nonsense that suddenly gripped Ontario. What a painfully awkward portmanteau! I'm a man known by my contemporaries for enjoying a good Frankenword (which is, itself, a portmanteau!
Yeah
! Spread the love!), and even
I
couldn't get behind the 'snowmageddon' noise. Just as well; I'm sure if I
had
been there, I would have driven everyone mad with multiple pained attempts to work a Willi Williams reference into the discourse until somebody would have finally up and assaulted me.
So another year is nearly done and gone, my goodness. Where does the time go? (He asks rhetorically, having not updated his blog in a month.) But before I get all wrapped up in ruminations, humour me my backlogged administrative archivism.
I'm late in mentioning it, but better late than never: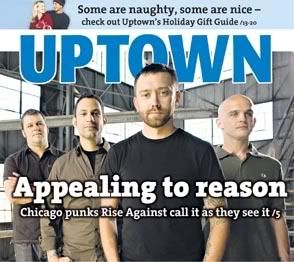 Uptown Magazine
! The tasty treat that can't be beat!
At the beginning of the month the paper ran my contribution of a
piece on Black Friday
, which this year was a bizarre and deadly affair across several major metropolitan areas despite nobody having any money to be buying things with in the first place.
You can imagine the madcap time I had writing
this
article; just as everything consumerist and awful was unfolding on that eventful Friday, the news reports of the morning
also
brought word that A) the Canadian political system was collapsing, B) the economy was tanking even harder than it had been tanking in recent weeks, and C)
Mumbai was on fire
. It was more and more difficult to limit myself to the one topic, but increasingly apparent that tacking
everything
that day would require far more than the five hundred words I am traditionally alloted. But I stuck with it, as best I could, and here we are. Such are the dangers of fast news days!
And as that was published at the beginning of the month, another column would soon follow to close out the year: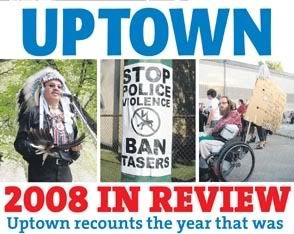 Uptown Magazine
! Oh, what a relief it is!
My
most recent article
, published this past Thursday (oh, Merry Christmas, by the way), was obviously inspired by the increasingly strange tale of Iraqi journalist
Muntadhar al-Zaidi
. What an odd story! This was the biggest shoe-related incident to hit the international community since Nikita Khrushchev went to the United Nations and beat the shit out of a desk. And given more time and space, I would definitely have made a point of including the
Sock and Awe
game somewhere in the column -- but, alas.
Anyway!
Two thousand and eight, huh? Dear oh dear. Another year down the tubes! What a miserable and terrible year for just about everybody and everything. The year was a marked improvement for me, but I had figured it might be. I would like to pretend that my upward mobility was because I keep myself diversified and drive endlessly forward in pursuit of bettering myself, but the truth of the matter is that there had been really nowhere to go but up. I started off the year unemployed, pissed off, and increasingly broke -- and since that was how a lot of people
ended
the year, I guess I was lucky to be ahead of the curve.
It was a wild and dramatic year for me, to be sure. In no particular order, 2008 was the year that I:
-- entered graduate school;
-- pulled up almost all of my roots and moved out of the province for the sake of entering graduate school;
-- began a stint in student-group administration;
-- dabbled with video-blogging (for an intended year-long Winnipeg project, which I ultimately elected to abandon upon the news that I wasn't even going to be in Winnipeg all year);
-- bought a tube organ (!);
-- established a
new annual tradition
, if only for myself;
-- earned a shout-out in Winnipeg's newspaper of record (!!), from its City Hall Reporter;
--
blogged about the phone book
;
-- became a voice-actor (!!!);
-- wrote a comprehensive event and concert review
for the dorkiest possible thing
, which remains far and away my most viewed blogging item thus far;
-- and, near the end of the year, saw my Double Honours in History and Political Studies finally pay off when the stupid Canadian government began to implode and everyone else took a sudden interest in Canadian politics. You can't
imagine
how stoked I get to see normies take interest in this crap!
So here's to two thousand and nine, whatever misshapen sort of beast it ends up being; I'll be hidden away in the ivory tower for the foreseeable future, but rest assured I'll keep in touch now and again. Happy New Year, one and all!