It was a difficult and unsettling transition from Winnipeg to London when I first arrived out here, not knowing who anyone was or where anything is or what to wear in a winter environment that doesn't involve a constant bombardment of minus fourty-five. But what helped me find my feet and get acclimated were the similarities between the two cities, of which there are quite a lot despite London being half the population.

Both Winnipeg and London have sad, crumbling, decaying downtown cores of empty (but architecturally fascinating) old buildings; they both have thriving outside pockets of sprawl that centre around gigantic malls, any of which require a good half an hour of bus ride to reach from downtown. Both cities feature brazenly inconvenient transit systems, uninspired Quebecor-Sun Media owned newspapers, and very new arenas downtown that host NHL exhibition games in the fall. And both cities play a significant role in the history of Labatt Blue beer, London the hometown of the company and Winnipeg the city that had the beer named after its football team. (A shame how badly Labatt Blue sucks with all of that in mind, but alas.)

That list established, I recently turned on my television and found one more similarity that I wasn't expecting: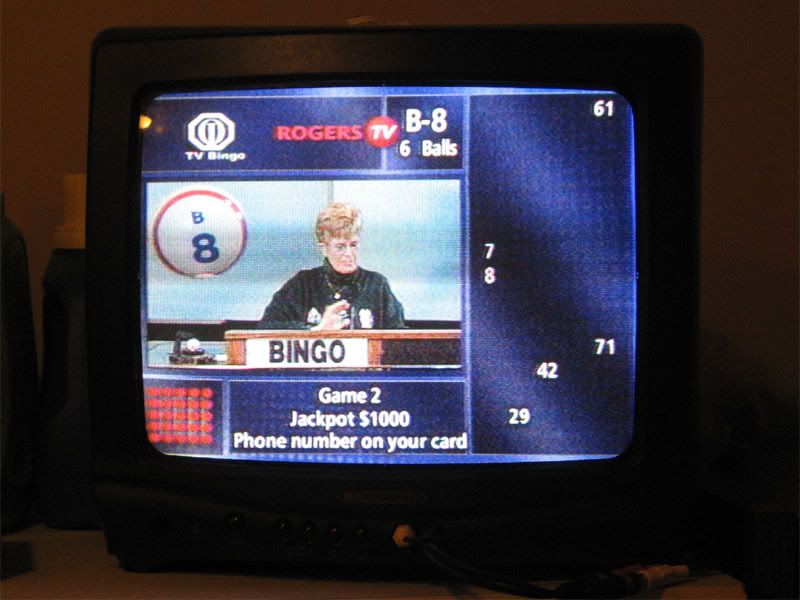 Television bingo! Oh, well, sure!

The local Rogers station is very committed to community coverage (actual tagline: "Local Matters"), when it isn't mocking lawyers or whatever, so naturally it hosts Optimist TV Bingo each Monday and everyone gathers around their television sets with glee.

Winnipeg is, of course, the Bingo capital of Canada -- maybe it's one of the only games we can afford to run, I don't know -- and the city's televised bingo has been a popular local institution for over twenty years, as ludicrous as that idea sounds.

I never quite understood the appeal of the... sport?... but I have to admit that the old television commercials always kept my undivided attention, when I would see them as a kid, so I imagine these people must know something about maintaining an audience.

Yes, old television commercials. You know I wouldn't be nearly as likely to bring it up if I didn't have an example handy, because people often openly disbelieve me when I say something like this without proof immediately at hand. Well, disbelieve this:



STILL ON THE AIR. It might even still be in the exact same timeslot, for all I know.

It's the little homey touches that make a visitor comfortable in a new city, it really is. If I ever need to play some bingo in the comfort of my own home, I know what to turn to!

I'm off to volunteer at the Ontario Library Association Super Conference, later this week, which will coincidentally put me in Toronto for only the second time ever. (I was once there for a week and barely ever got out of downtown, although I don't imagine I'll get much farther this time.) The library and publishing conference in question is usually described as 'gigantic' when I ask about it, but beyond that I really have no idea what I'm in for. So drop by next week, gentle readers; I'll be sure to let you know how it went.