What it is, cats and kittens! I'm dead tired and I'm broker than broke, but I'm down to my last month's worth of library school and if they haven't thrown me out by now I'm forced to assume that they're not going to.

My apologies for not posting anything in a few weeks, but I must confess that I've been a rather busy brother over the past little while. What was I up to? Let's do as quick a rundown as I'm capable of managing! A lot of these items would best be expressed as invididual posts all their own, so feel free to ask for further information on any of these, but in brief here's what I was up to.

My last post was shortly before my Reading Week kicked in, which meant my first major enveavor was flying to Calgary to spend a good nine days in Alberta.




This included a trip to the Johnston Canyon Falls in Banff National Park, where I saw clear blue water for what might have been the first and only time in my life at the Johnston Canyon Falls --




-- and killed a tree in one punch when it looked at me funny, because I am manly beyond anybody's wildest expectations.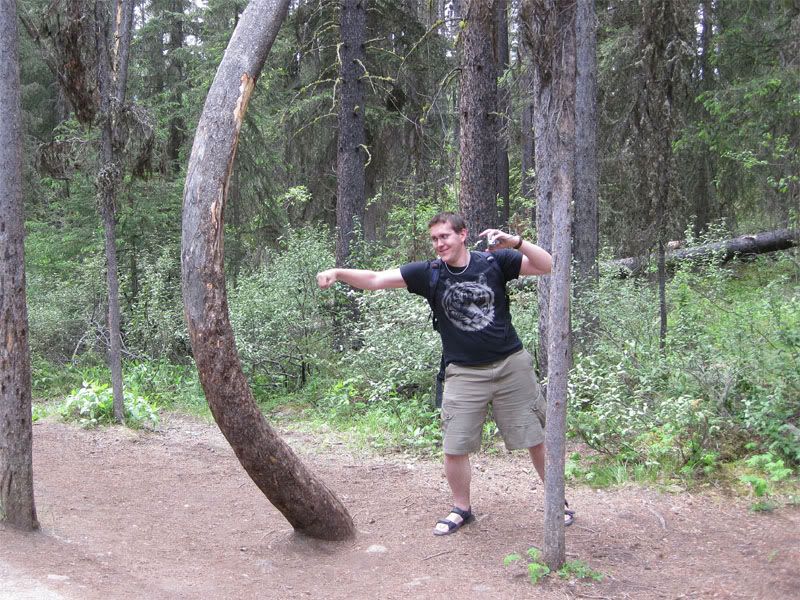 Bam! Suck it, nature!

After a brief pause in leaving the park, because some elk decided it would be funny to hog the road --




-- it was off to Banff proper and to Canmore, which come across respectively like any other tourist trap town and any other small community except for when you happen to look up past the buildings and go "oh, yeah, right".




Canmore is named for a ninth-century Scottish ruler, and translates roughly from the original Gaelic to "Big Head". I'm guessing that's supposed to be the explanation for this thing --




-- but I'm not going to lie, my first thought was that it was going to go Gradius on me and start shooting energy pellets. This is a valid concern!

So after that little jaunt into the mountains I spent the weekdays of the trip in Calgary, which just happened to coincide with A) Canada Day and B) the beginning of the Calgary Stampede. Canada Day being first, I took in a show at Olympic Plaza and slapped some skin with Emily Murphy --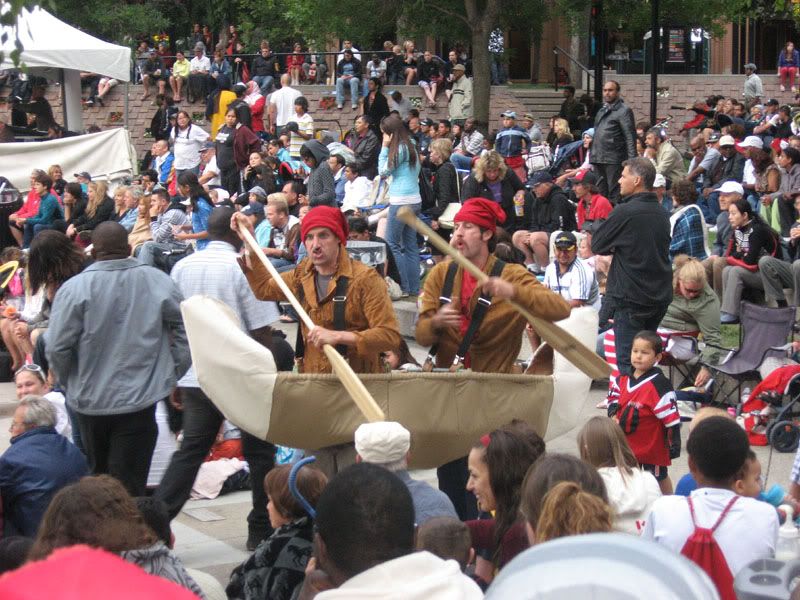 -- and then it was Stampede time! Having never been, I knew that I would be in for an enchanting evening of every unfortunate stereotype at once rising to the forefront -- so naturally, to avoid suspicion, I went incognito.




Espionage!

The opening day of the festival kicked off with a parade, of course, and you know how I love parades. (Knowing me, this would be normally be a post all its own -- but we've got lots to cover here.)




hee hee hee hee hee tiny horses

I like to think of myself as a man of worldly sophistication, but I'm not going to lie to you; you show me a couple of midget ponies pulling something much larger than they are and you're going to get a laugh out of me.

And this being the blog of a library student, special mention must be made of the Calgary Public Library entry into the parade:




Go figure!

Then it was time for the Stampede itself, which -- if you've never been -- is best imagined as a giant-sized exhibition carnival (like if you ran into a carnival in World 4 of Super Mario Bros. 3, if that helps) with some western-themed events and the most stupid hats you have ever seen in one place. Also drinking!




Well, maybe not. This was the line to get into the on-site bar and country karaoke stage (yes seriously), and it only got longer every time I passed by it that night. So screw that! Let's go get some mini-donuts instead, I swear I could live off them things.




No, your eyes aren't deceiving you; the mini-donut kiosk is actually larger than at least two different places that I've lived in. Everything's bigger in Texas Calgary! You could buy a bucket of some ungodly number of mini-donuts from here -- thirty or thirty-five, I can't even remember -- but I had to pass because I had to acknowledge that the experience could potentially kill me. Well, that and I couldn't figure out how I'd get the souvenir bucket home on the plane.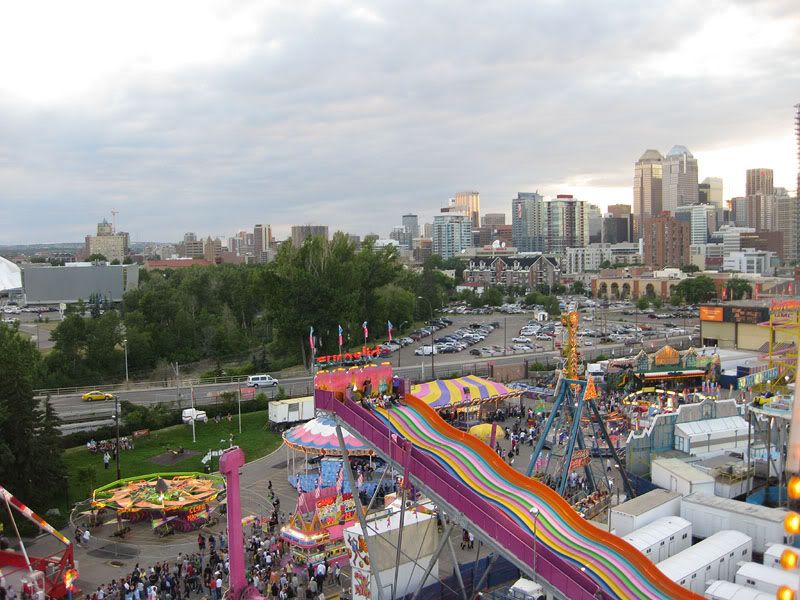 Some aerial shots, taken from the ferris wheel. The rides were a good time, but I had just as much fun with the unfortunate naming scheme of the ticket administration centres:




OH MY BROTHERS TESTIFAHHH~




This was the last picture I took before I left, and that's just as well because there's clearly no way to top that. Look at that sucker! Unedited from its original form except for resizing and compression purposes; no fanciful Photoshop effects here! I don't even have anything meaningful to say about it, it's just cool to look at. What a neat shot.

As fun as the Stampede was, though, there were far more awesome Albertan attractions to attend -- and so before I left I made a point of renting a car and driving out to Dinosaur National Park, out east in the Badlands near Drumheller.




Yeah, wow. Pretty impressive! Of course, not so impressive that I can't conquer them!




Onward, fellow adventurers! We shall claim these lands for our own! Glory and fortune await our names, and we shall be hailed as--




Oh. They looked a lot smaller from up there. Man, forget this.

So I had a pretty great time in Alberta, all things considered, but of course I came back with still half a term left to deal with. I've completed about half a dozen assignments since then, including four due in three days (!), and it has generally been back to the grind.

However! The monotony was lightened by a field trip, when our Children's Materials (Birth to Seven Years) Evaluation and Use class loaded into an old school bus and rolled fourty deep to Toronto to visit the Canadian Children's Book Centre and the Osborne Collection at the Lillian H. Smith branch of the Toronto Public Library. FIELD TRIP~!




Of course, the trip had been scheduled back in May, so by the time the trip date actually arrived Toronto was three weeks into a city-wide garbage strike. And the Lillian Smith branch is basically in Chinatown, so you can imagine how pleasant the walk around the area was.




Excited passerby included for emphasis.

Props to whoever threw out the computer monitor from like 1987, though! It takes a man or woman of true character and vision to save a yellowing, ten-inch monitor for decades just in case the opportunity will arise to throw it out at the corner trash can of a major intersection at the height of a garbage strike.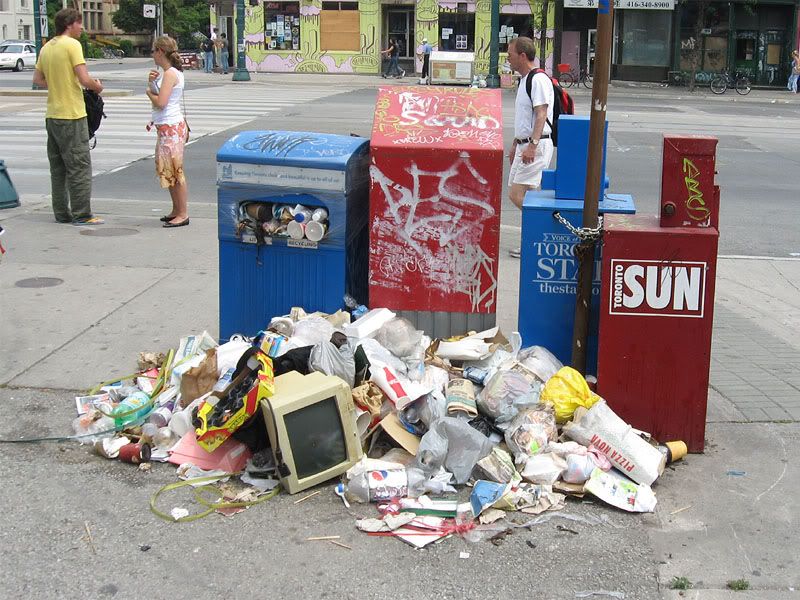 Magnificent, whoever you are. Bravo.

Thankfully, all is not dreariness and gloom back here in London; each weekend there've been a variety of cheap or free things to do, which has been nice for me when I've been able to get out of the house. Just last night I popped by Victoria Park to take in Jill Barber, at the (free!) Home County Folk Festival, and that was good times because Jill Barber is nothing if not heartfelt and adorable and lovely. She writes swing and soul tunes, her voice always reminds me of Lily von Shtupp, and one hundred per cent of her setlist last night was songs about love. An evening well spent, I would say.




So, yes! If you were wondering where I was, and I am willing to acknowledge that this is a pretty big 'if', now you have a better idea of where I've been since my last communications. But what have I been doing? Well, let's just go ahead and split that into its own post, because I'm about to drop some killer content on you. Never a dull moment, baby!