I was going through the London pictures again just now and re-noticed something that will demand my immediate attention.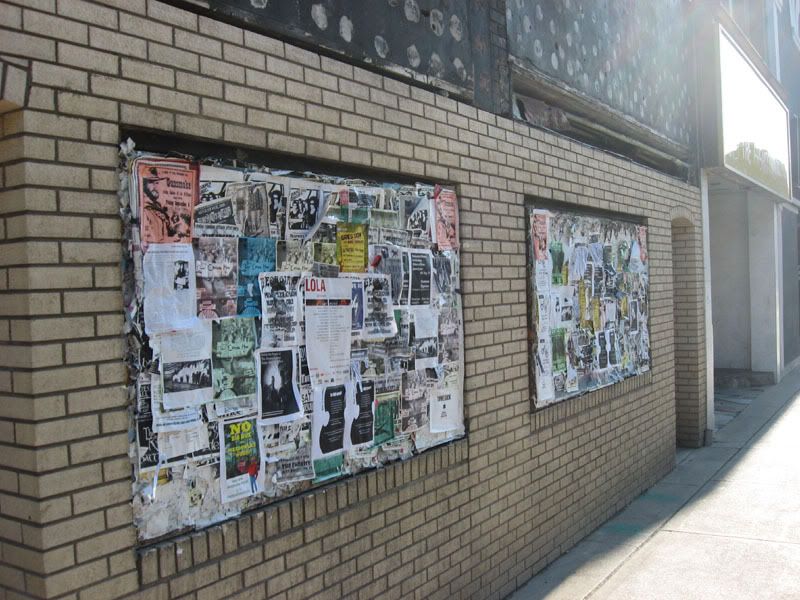 This was one of the sights that I'd photographed while out and about the day I took all those pictures, because I was pleased by the prospects of a healthy arts community kickin' around in the city. (It would later emerge that I have evening classes until 9:30 on Tuesdays and Thursdays, which kind of pooches any events on those nights -- but I don't really have the disposable income to be blowing on concerts
anyway
, so alas and alack.) One particular bill at the time had caught my notice, probably because it was bigger and shinier than all the other ones:
Why, it's
LOLA
! The London Ontario Live Arts Festival, which I hadn't even heard of until I walked past and saw this poster that day! Scuttlebutt has it that it's a free (!) live outdoor festival, and the lineup looks so intriguing that I can't help but want to investigate.
For example:
Holy Fuck
! Yes, the band. (I would later hear fellow students come across the poster, having apparently never heard of the band, and remark excitedly to each other about what a great name that is.) I bring this up because the organizers made a specific point of leaving
Holy Fuck
's name uncensored, even though anyone of any age or sensitivity threshhold might happen to pass by. That is
awesome
! I'm so used to seeing it written as "Holy F--k", "Holy F**k", "Holy F@#k" or what have you -- and I saw them written a
lot
, what with mainstream media sources trying to report on the
Polaris Prize nominees
-- that I'm actually strangely
elated
to see the name written out in full, as though the world is a better place now than it used to be. What a marvellously inappropriate reaction! I'm almost proud of myself.
(You'll note I linked to their MySpace above; from the looks of things, they
forgot to pay the bill for their website
. Whoops!)
Here I was going through the photos, I saw these ones again, and noted -- as you have no doubt already noted as well -- that hey, wait a minute, September 18th to 21st is
right now
! The promise of free mainstage music and entertainment on Friday and Saturday evenings, plus a walking tour of art installations? They've got
my
interest!
So, yeah, I've got
my
weekend lined up. Working on the last batch of photos will thus take a bit longer than I'd originally anticipated -- and I'm no doubt about to be taking
new
ones, which will only compound the situation. Regardless! These are the noble sacrifices that a young man like me must make, sometimes.
Holy Fuck! Oh boy!